A couple of weekends ago Larry Miller was performing stand-up at
the Parlor Live
, a killer comedy club in Bellevue, Washington. Bellevue is a suburb of Seattle, but they'd probably string me up by their money belts if they heard me say that.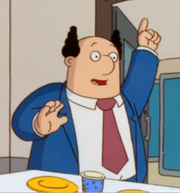 Larry is a terrific actor-comedian. If you don't know his name, you know his face! His on-screen highlights include the films 'Pretty Woman,' 'Best in Show,' and 'Get Smart,' along with appearances in TV series like 'Seinfeld' and 'Desperate Housewives.' He's also done a lot of voice-work for animated series like King of the Hill, Buzz Light-year of Star Command, and Dilbert. In fact, Larry originated the role of Dilbert's Pointy-haired Boss.
You may or may not know that I currently play Pointy-haired Boss in the online animated shorts produced by Ring Tales (seen at
www.babelgum.com/dilbert
).
"Wouldn't it be cool to get a picture of the two of us together?" I asked myself. I have to tell you, once I get an idea in my head I can't let go. Call it positive thinking or semi-psychotic behavior, but I decided I was going to meet Larry Miller and take that picture! Plus, I was sure Mr. Miller would have some nuggets of wisdom that he could impart on this fledgling voice-actor. Or just throw at my head.
Long story short, I made some phone-calls, sent some e-mails, won tickets to the show (if you can believe it), and bam! I was on my way. It didn't hurt that a local comedian I know happened to be coming in to voice something with me that day, and he made a call on my behalf as well. Sometimes the Universe will like a person's crazy ideas so much that it will actually help guide them to fruition. I'm telling you! And no, I haven't read the Secret. I prefer Playboy and comic-books (I pride myself on my maturity).
Larry was happy to meet me in the Green Room at the Parlor Live. Not happy in a 'wow! I'm thrilled to meet someone I've never heard of'' kinda' way, but agreeable nonetheless. I was escorted back before the show, which I have to admit makes a person feel rather special. I don't care if you're meeting the President of the United States or Carrot Top, you feel like the king of the world! There's an entire room full of people waiting to see Larry Miller perform on-stage and I get a private, one-on-one conversation with him! I arrived just as he was finishing up dinner, and making arrangements for a ride to the airport in the morning. He made eye-contact with me. "Same character, huh?" he said, sipping his warm tea. "That's something."
We talked briefly about Dilbert, meeting
Scott Adams
(I'm still waiting, Scott), and how much he enjoyed doing the series. He thought they had a good thing going and that it was a shame it ended so soon. I know there are Dilbert fans that agree with him; but they've also really embraced our online shorts. Dilbert fans are pretty passionate and can't seem to get enough of the characters!
I was hoping this veteran of 50+ film and television series would also have some tips or tricks I could use in my own acting endeavors. "I think that people who go around giving advice are usually full of b.s.," Larry said. I nodded and laughed. In fact, I couldn't stop laughing no matter what he said. I guess comedians have that affect on people. Or maybe I was nervous (I once laughed during an earthquake-but that's a story for another time).
"I have the Bug," I said, referring to the acting-bug; a different strain of the same germ that got me into radio (Larry's favorite medium, by the way). "What are you waiting for?" Larry asked. "Life is short. You want to be 45 someday and fired from your job?" A reality these days for a great many people; a near certainty for us radio guys. He continued. "You want to talk to God at the end of your life and hear him say, 'so…whatever happened with that acting thing?" Actually I always figured if I ever got the chance to speak with God, it would involve me apologizing for underage drinking, sex before marriage or taking his name in vain. But I digress. Mr. Miller was so direct, that I was caught a little off-guard. No Yoda-like riddles. No "wash-on, wash-off." Just the salt-of-the-earth, common sense stuff that had been rattling around in my head for a long time now. Of course, it's always nice to hear somebody else say it. "You've got to keep going!" he told me. Maybe he meant 'keep going' out of his dressing room, because the next thing you know I'm headed back to my seat as a group of pretty girls ask for a photo with the headliner (must be nice).
Larry killed it on stage that night. He was hilarious! Cerebral, silly, and he didn't drop a single dirty word. Now that's good writing! If you get a chance to see him live, I highly recommend that you do so. Meanwhile, you can read his amusing blog
here.
After the show I thanked Larry again for his time and said goodbye. "Good luck," he said. "I'll see you in L.A.!"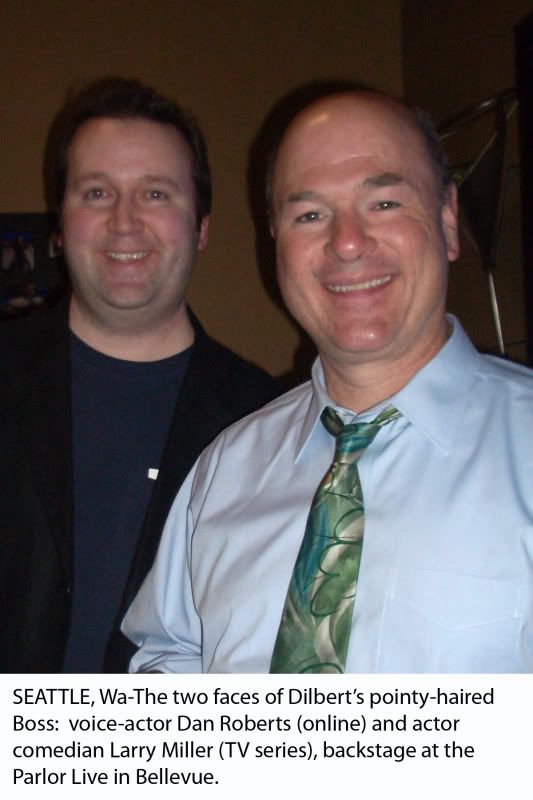 Oh... And yes! I got the picture.