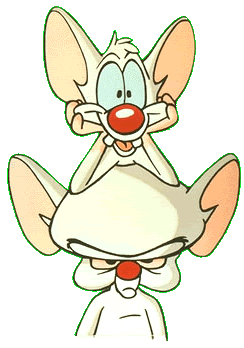 Rob Paulsen
and
Maurice LaMarche
, sometimes known as Pinky and the Brain, are guests of honor at the
Voice 2010
Celebrity Banquet on Saturday evening, June 5th. I thought it would be fun to take a quick look at their work, as kind of a primer for the uninitiated, and a refresher for the rest of us.
Rob Paulsen has won
several
Annie Awards
for his work as Pinky, and was nominated for a Daytime Emmy for his performance as Yakko on Steven Spielberg's Animaniacs cartoon series. The role involved plenty of singing, and some very clever tunes. Take a listen.
Paulsen has also provided voices for Danny Phantom, Justice League, Goof Troop, Powerpuff Girls and many other modern favorites.
He took over Jim Carrey's role of Stanley Ipkiss for the animated 'Mask' TV series and, according to imdb.com, dubs dialogue for Jim's movies when the star is not available.
Maurice LaMarche based Brain's voice on one of the great radio and film voices of all time: Orson Welles. In fact, he does such a great impersonation of Welles, that he played the Hollywood legend (vocally, at least) in Tim Burton's movie 'Ed Wood. He also does a spot-on impression of Alec Baldwin (in Team America: World Police).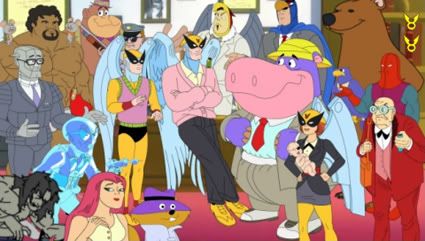 There doesn't seem to be a voice that LaMarche can't do. He proved this versatility on the Cartoon Network's 'Harvey Birdman: Attorney at Law' program, taking on famous Hanna-Barbera characters such as Fred Flintstone, Speed Buggy, Magilla Gorilla, Quick-Draw McGraw, and Tex Avery's Droopy.
Like Paulsen, LaMarche is an Annie Award winner. Without further ado, here is the duo in action as Pinky and the Brain!
And in a rare public appearance, singing the Pinky and the Brain theme-song.
Hopefully you've enjoyed this crash course on the work of Rob Paulsen and Maurice LaMarche. I know I look forward to hearing them speak for themselves at Voice 2010!
Best,
Dan
p.s. To learn more about Ron Paulsen and Maurice LaMarche, check out
this article
from Voice-over Xtra.